If you're a gamer, you would know the game experience on the PC is the best. Did you know half the gamers worldwide play on PC? So if you enjoy Android games, perhaps you would like them even better on a PC.
Yes, there are ways to enjoy Android games on PC. Not all mobile games have a PC version, which is unfortunate. But that doesn't mean you can't play them on a computer at all.
While there are several options, the most popular and viable option is using an Android emulator. An Android emulator is basically a software that creates a virtual Android environment on Windows.
Why Play Android Games on PC?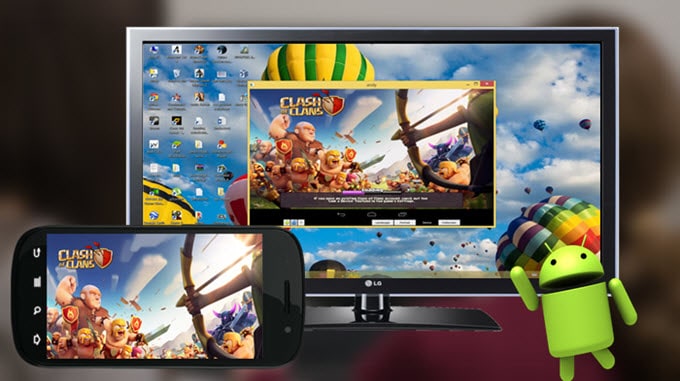 There can be a number of reasons why you'd want to play Android games on a PC instead of your mobile device. Yes, mobile devices are getting bigger and faster every year, but there are still many things that a computer offers that mobiles just can't beat. Here's why:
Bigger Screen, Better Resolution
Ok, so maybe the resolution isn't a big deal, as many flagship smartphones offer 4K picture, but size definitely is. Honestly, the gaming experience just isn't that great on a small screen. Some games may do well on a small screen, but then there are those other games that work best only on a big screen.
For those Android games on Google Play that don't have a PC equivalent, the audience can be limited, especially if the game company is trying to target pure gamers. Those who play computer games regularly know the value of a big screen.
Faster Games
Computers have a faster processor, which, in turn, results in a faster gaming experience. Android phones, especially the popular ones like Samsung Galaxy or Huawei Honor, are getting faster, but they still can't come close to the computing power you can find with a PC. As a result, games have less lags, and you run Android games the way you want to.
Better Control
True gamers like to use the keyboard, mouse, or controller when playing games. Most smartphone games only offer touch controls, which can be quite a handful and may even slow down the player. If you really like to be in control of the game, you know there's no better way to play it than on PC.
Plus, you can customize the controls easily to suit your needs. You can use keyboard shortcuts as you progress in the game. So that's something which is definitely better on PC as compared with mobile phones.
Convenience
The whole experience on PC is far more convenient, not just because of the controls. You're not bound by power restraints that you need to charge your mobile device. You have much more disk space to download all the games on PC, freeing up the memory on your mobile.
Play Android Games on PC using Emulators
Android emulators let you enjoy Android gaming on PC, which is why more gamers are starting to prefer playing these mobile games on PC rather than on the phone. It's basically just like a phone environment created on your Windows screen. How cool is that?
Now, there are tons of options when it comes to the Android emulator. But like all software products, not all emulators are created equal.
Android even has its own emulator in Android Studio, but that's mainly for testing purposes, so developers can test apps. To truly enjoy games, you need an emulator designed for gaming. Here are the five best Android emulators you can use to play mobile games:
BlueStacks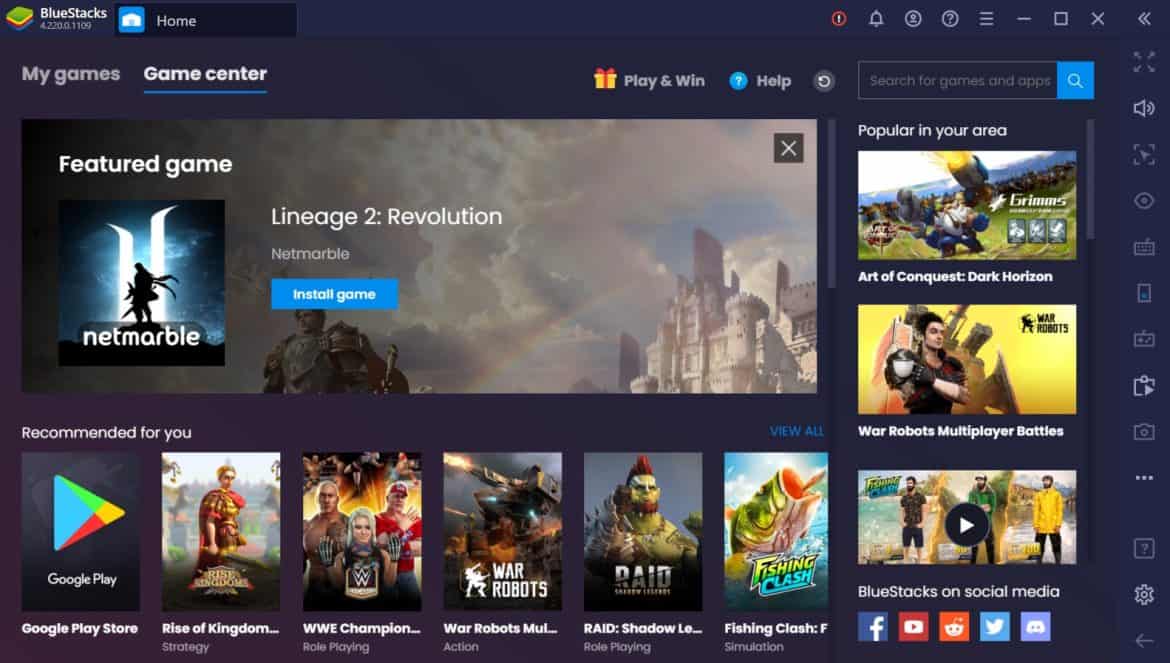 BlueStacks is the reigning champion of Android emulators with it's feature-rich, high-quality interface. The reason why BlueStack is hailed as the best is that it can support high-definition graphics seamlessly. That is, if your machine meets the minimum system requirements.
You can also run other apps on it like Whatsapp, but it's mostly used for gaming. It's fast and reliable with minimal lags, so you have an uninterrupted experience whatsoever. You can even find the Samsung Galaxy store, in addition to the Google Play store.
Gaming Features
BlueStacks has all the standard gaming features and then some. You have macros, multi instances, multi-instance sync, and standard gaming features. You can also customize the BlueStacks home screen and map keyboard for gaming.
Keyboard mapping is one important feature for gamers, especially when moving from mobile to PC. You can set both keyboard and mouse to your liking, setting keys to do all those tasks you did touching the screen.
It also allows real-time translation and screen recording if you like to stream games or create videos for YouTube.
Speed
BlueStacks claims it's six times faster than Samsung Galaxy S9+, which is true, as it really is the fastest emulator. But it also comes down to your own PC, as the more resources it has, the faster the software would run.
Graphics play a big role in speeds, as HD graphic games usually require a lot of processing power and a dedicated graphics card. If you do have those resources, BlueStacks will likely deliver the kind of performance you're expecting.
The performance has been consistently improving since the first time BlueStacks came about. BlueStacks 4 is now the fastest emulator there is.
Other than the actual running speed, another plus point for BlueStacks is its easy interface that makes navigation seamless. There's not much of a learning curve, and anyone can master using it in a single day. The screen isn't like a traditional Android screen, and it's loaded with games (which helps understand why it's so beloved in the gamers community).
Price
BlueStacks is free software, but it does have advertisements.
Nox App Player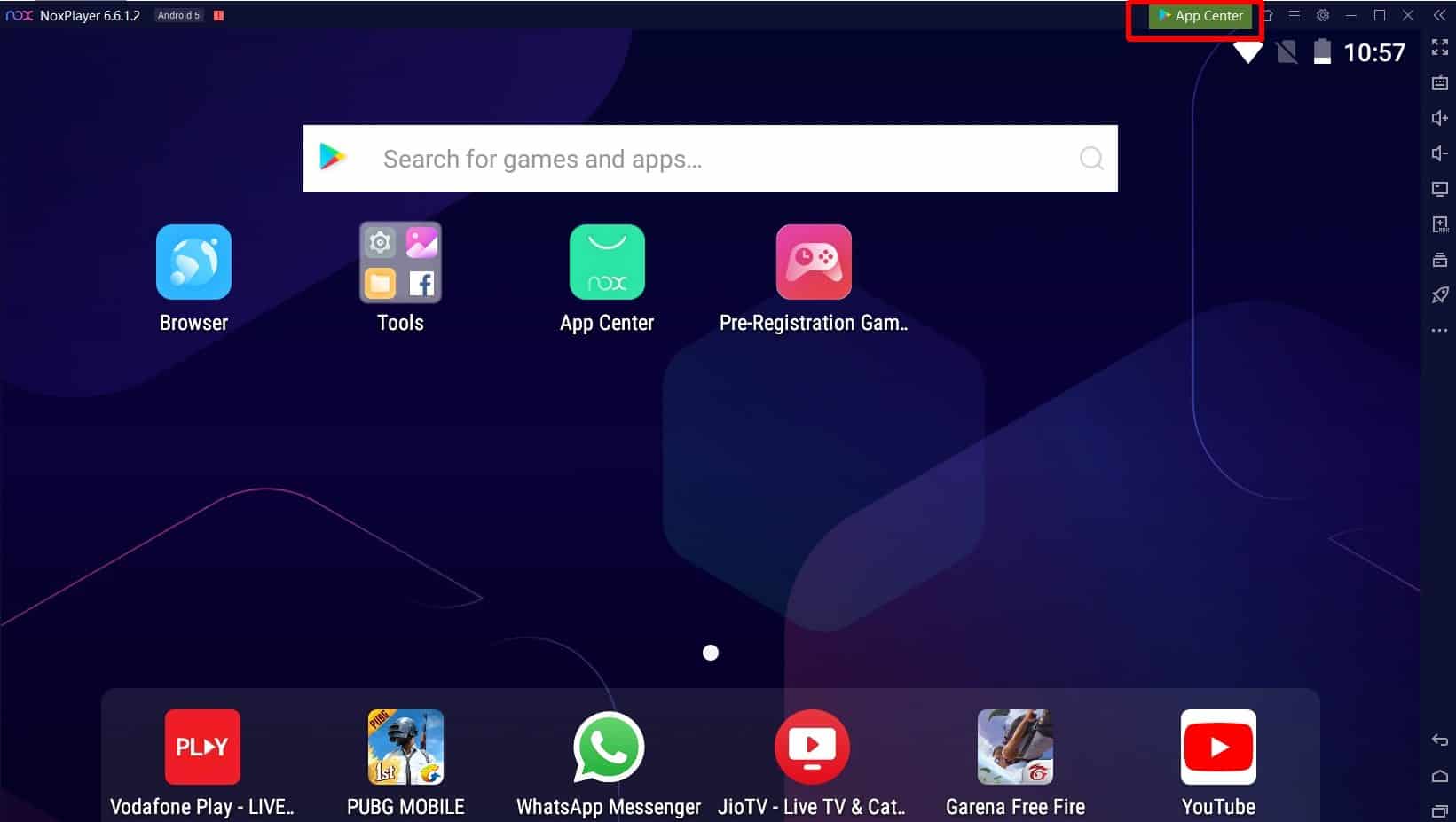 Nox App Player, also sometimes simply called Nox Player, is another heavily popular emulator to play games on a desktop computer. While it's popular with gamers, it's great for running all Android apps. It's ideal for those who probably aren't that familiar with Android and want to play Android games on a PC.
It has a very well-rounded interface that offers easy navigation. You can easily download all your favorite games from the Google Play store, but you may have to log in with an account. It also offers root access, which ordinary emulators don't, but that's a whole another thing.
Gaming Features
If you're using Nox App Player solely for playing games, you'll find it to be very similar to BlueStacks. Like BlueStacks, you have all the essential features like multi-instance, multi-instance sync, keyboard mapping, and a video recorder function.
As for graphics, it can easily support your favorite HD graphics games like Clash of Clans, PUBG Mobile, Call of Duty Mobile, and the newest sensation Among Us.
The keyboard mapping is easy and adequate, so you can enjoy your action role-play games easily. You can even use a gamepad or controller in games that support them. That alone makes the mobile experience so much better on the PC. It's comparable with playing games on a console.
One of the unique things about the Nox App Player is that it can let you choose the Android version to run. While it has the new Android 7 operating system, you can also use older ones. If you want to play a game that no longer runs on the latest Android OS, you can choose an older version like Android Lollipop.
The multiplayer function allows you to play multiple games simultaneously on one screen.
Speed
The Speed of Nox is comparable with that of BlueStacks, but the latter would come out on top if compared. However, it's still pretty fast enough to support HD games and those with high FPS rates. Of course, you would have to have resources for it, too.
It performs really well on Windows 10, especially with the recommended system capacity. You can use it as a virtual machine, dedicating how many resources it can use. For that, your processor should have virtualization enabled, which is common in modern PCs.
Price
Nox App Player is free and makes money through advertisements.
MEmu Play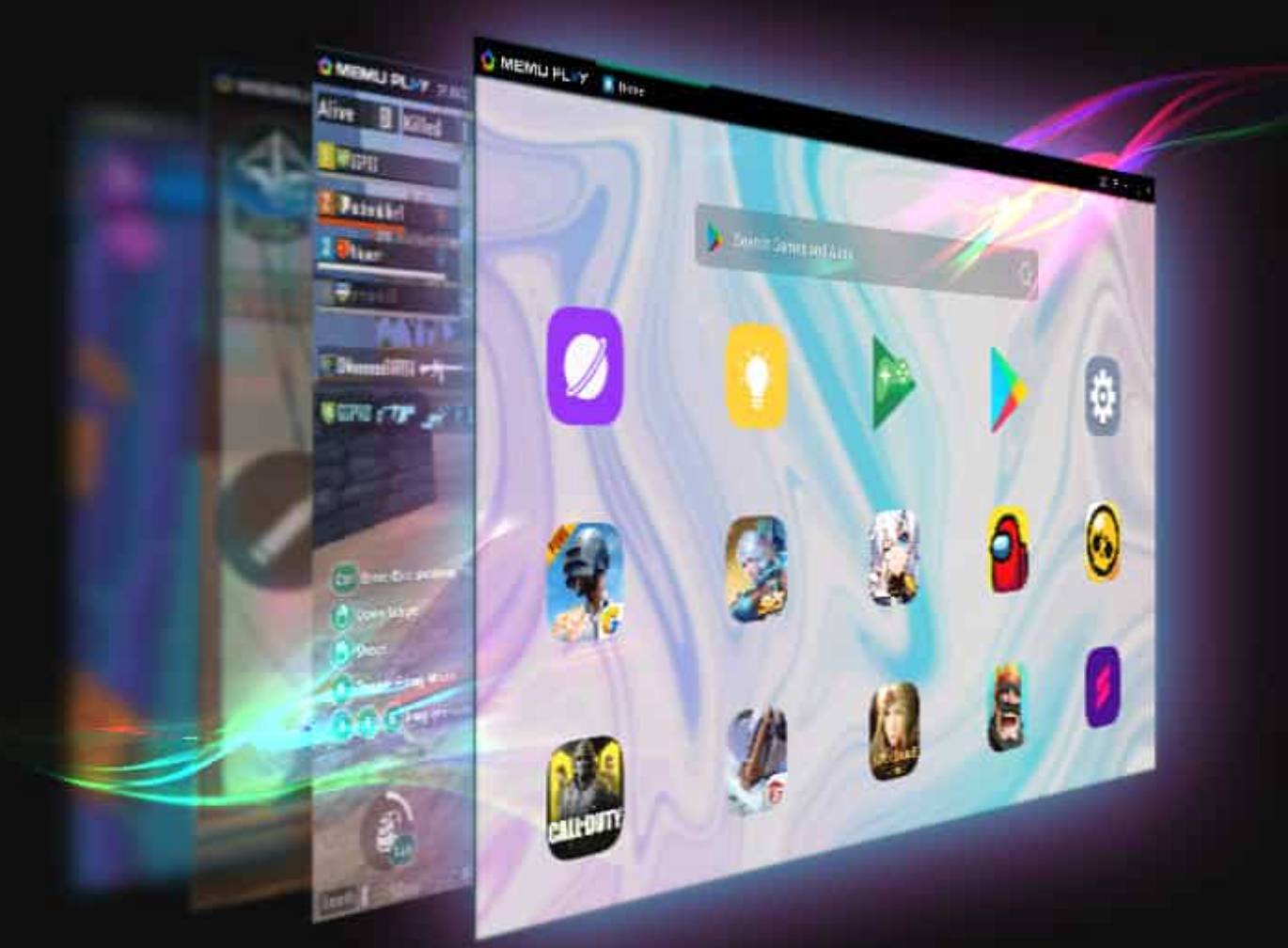 MEmu Play has been slowly building its reputation in the Android world, especially with gamers. While it's not exactly as powerful as BlueStacks, it's definitely one of the best. You run your favorite apps and games on this emulator easily.
One other thing that makes it so popular is that it's highly compatible. You can use it with an AMD processor and even on older versions of Windows. It runs adequately even if you're meeting the bare minimum requirements, making it a viable option for those with old machines.
Gaming Features
This one really got a push when PUBG mobile came out. So it's fair to assume that it supports strategy games pretty well, and as a matter of fact, it does.
It offers virtually all the main features, as well as auto key mapping. You can simply download and install a game of your choice and use the already mapped keys. However, you can customize these controls, too, as you prefer.
Speaking of customization, you can also change how much resources of your PC can it use.
Many popular apps come preinstalled, so you don't even have to download them off the Android app store.
Speed
If you're comparing the speed of MEmu Play with BlueStacks, the latter would win. However, it seems that MEmu Play is slowly catching up. If you're not too particular about speed and have a powerful machine, you'll be pretty pleased with the speed and performance this emulator delivers.
Speed also depends on how much resources you have and how you've set it up. If you use virtualization, MEmu will offer comparatively better speeds.
It can sometimes lag because of memory shortage or less processing power, and even because of third-party applications. You can improve speed greatly if you close other applications using a lot of resources.
Price
MEmu Play is completely free to download online.
Conclusion
An Android emulator like BlueStacks, Nox App Player and MEmu Player can offer gamers the opportunity to enjoy Android games for free on a PC. The performance, speed, and graphics are all so much better than what you would get on a mobile device. It's also convenient if you're used to playing games on a computer.
These are also very helpful for game developers who want to run and debug their apps. Rather than using a phone or tablet, they can simply run the games on the emulator by dragging and dropping the game's APK file. These are far better than the Android Studio emulator, which can be incredibly slow or crash altogether.